Pre-Order
Check Box { Jack Radey's
KORSUN POCKET 2: Little Stalingrad on the Dnepr
To Pre-Order, please fill in the form below — when pre-orders have reached 500, we will commit the game to production and notify you about payment and shipping
TO PLACE A PRE-ORDER —
just email us with the title(s) you want to pre-order and the number of each (you might want to stash a couple in the attic). When the game reaches the needed number of pre-orders [usually 500], you will get an email with the discount code to enter when you place your order here. This will assure that you get your pre-order discount.
Pre-Orders are being accepted for —
Jack Radey's KORSUN POCKET: Little Stalingrad on the Dnepr — List Price $300.00 — PRE-ORDER PRICE — $225.00
[Order Number PRP-1007 Number of Pre-Orders Received — 324]
This is Jack Radey's update of his original monster game of 1978. Two Soviet Fronts surround a German Army in the Ukraine and a ferocious battle takes place as the Germans try to break the encirclement and the Soviets seek to crush both the rescuers and the beleaguered troops in the Korsun Pocket. 
12 counter sheets of 200 die-cut backprinted counters each

four 25 x 38 inch game maps

six German Order of Battle Charts — III Panzer Corps, VII Corps, VIII Flieger Corps, XI Corps, XLII Corps,  XLVII Panzer Corps

ten Soviet Order of Battle Charts — 1st Ukrainian Front, 2nd Ukrainian Front, 5th Guards Tank Army, 2nd Tank Army, 6th Tank Army, 4th Guards Army, 27th Army, 40th Army, 52nd Army, 53rd Army

one 24-page Rules Booklet

one Scenarios Booklet

one Commentary, History, and Designer's Notes Booklet

two double-sided 22 x 34 situation maps (25 January, 1 February, 10 February, one blank for planning purposes)

two 11 x 17 player turn record track cards

two player chart and aids cards

one six sided die

 Boxed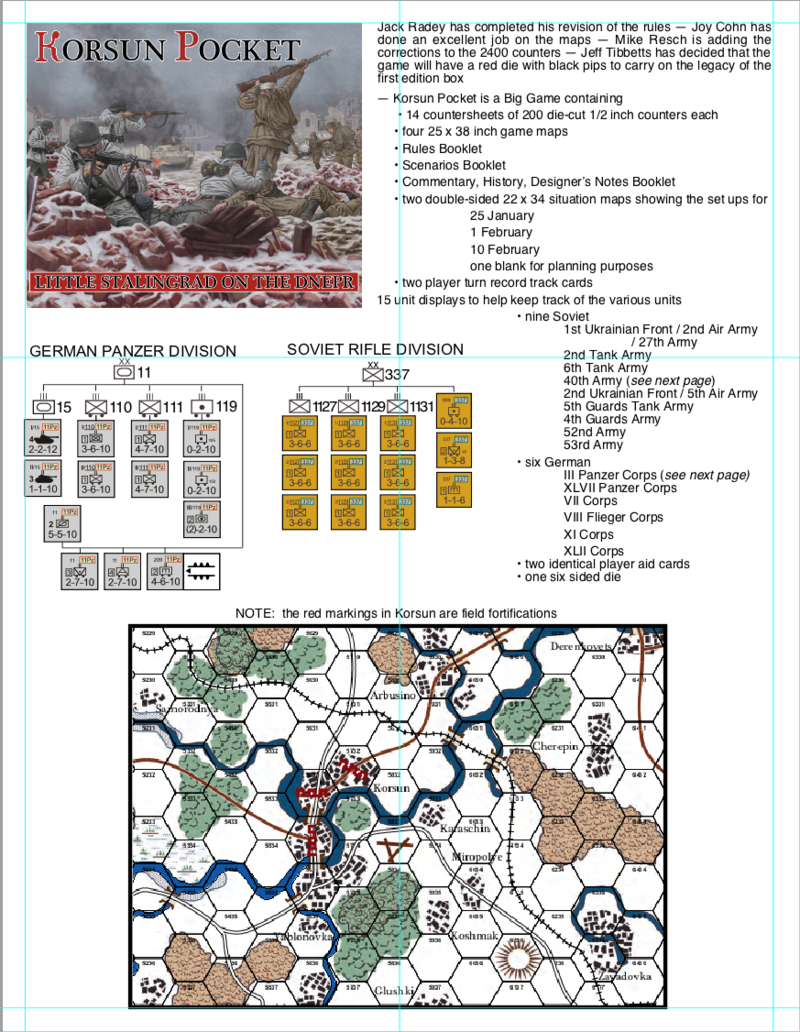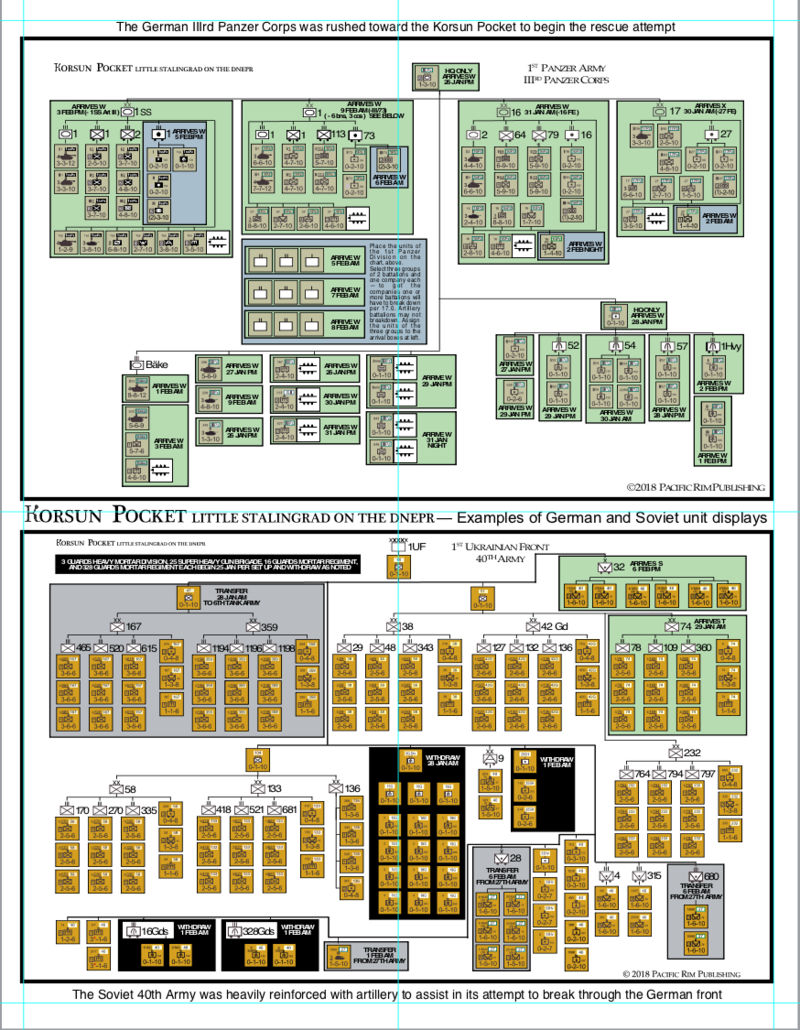 Remember: this is Pacific Rim Publishing, we pay the postage on game orders to anywhere in the USA
GAME Orders shipped to addresses outside the USA / APO / FPO / DPO have the following shipping costs:
Korsun Pocket — Canada — to be determined — Elsewhere — to be determined
Pocket General — Canada — to be determined — Elsewhere — to be determined